Hot Oil Massage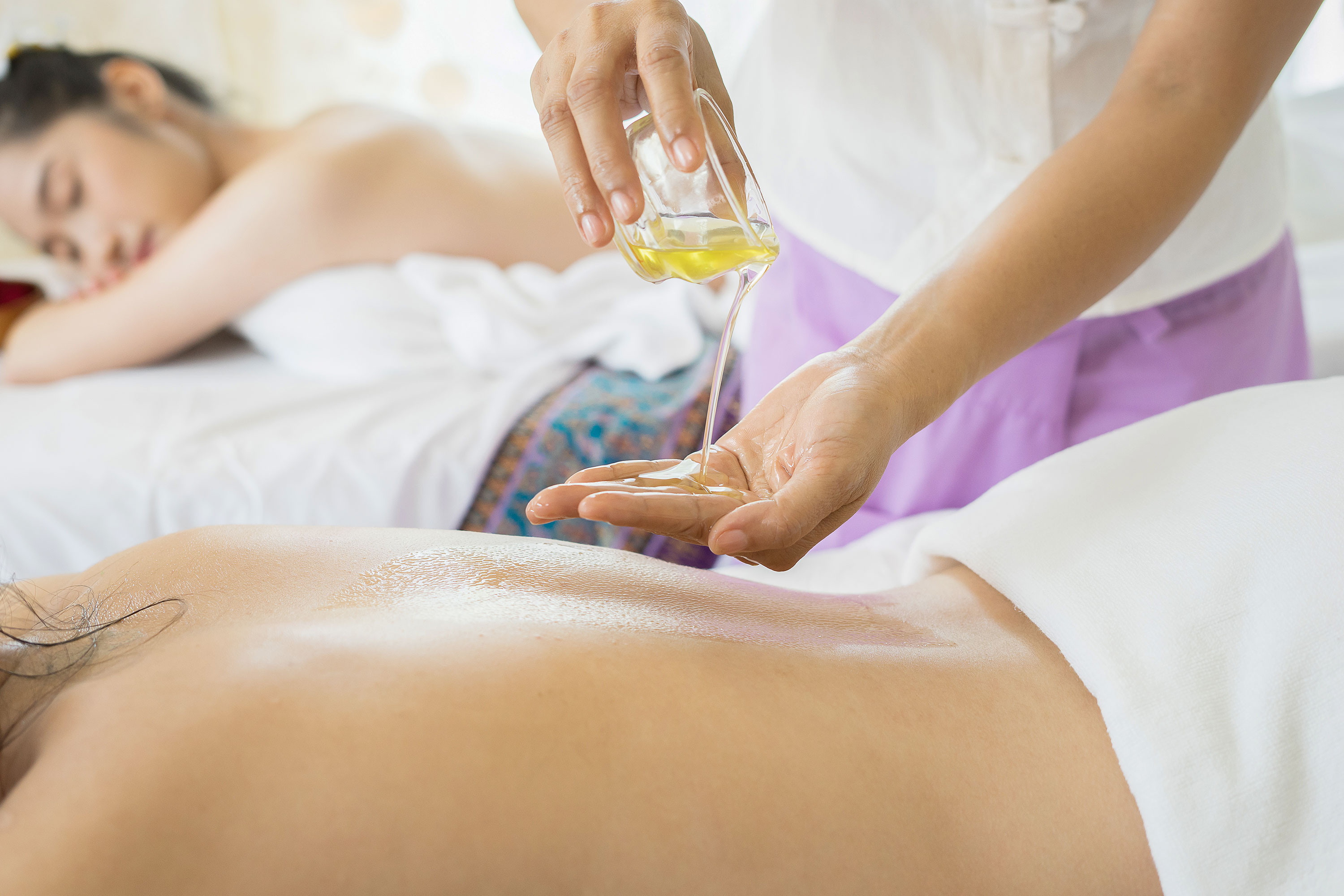 Hot oil massage is effective not just in reducing tension and relieves spasms, aches, and muscle pain of the muscles and help to tone and condition them, but also improves the condition of the hair and skin by reducing oxidative stress and thus preventing premature aging and also for therapeutic uses such as to improve sleep, ease sprains, for controlling arthritis, muscle pain and in repairing skin damage and so on.
Believe it !, there is nothing more relaxing than a hot oil massage to unwind and ease of every tensed nerve after a long tough week. This practice known as Abhayangam in Ayurveda, is practiced widely in India and is used for both adults and kids has a number of health benefits.
Abiyangam is an ayurvedic healing massage therapy. This form of massage has following health benefits:
Improves blood circulation
During massage the masseuses normally use their thumbs, fingers, palms, elbows and at times even their knee to help stimulate the surface of your skin, muscles of the body to reduce pain, cures tension and tenderness, finally bringing about a state of relaxation. While massaging your muscles and body are twisted, patted , rubbed which leads to heat generation in the body which as a result massages the nerve and blood vessels beneath the skin — which help improve blood circulation. Massaging helps in blood pumping which in itself has a number of considerable health benefits like improving the structure of your skin, eradication of toxins and apt functioning of internal organs. Other than this, the heat produced is also helps improve metabolism.
It builds up muscle and bone strength and tones, tightens and improves the functioning of the muscles.
Lifts up your spirits and can beat depression
The soles of the feet and palm correspond to various organs of the body, massaging there releases certain hormones which calm your mind, relieve stress and help keep depression at bay. It can even help with problems such as sciatica pain, foot fatigue, numbness and can even improve eyesight.
A perfectly done massage helps in relieving body ache. Increased blood circulation secrets and releases hormones which helps beat body pain.
Rough or dead skin is alleviated with hot oil massage especially places like your navel, behind the ears and knees that are prone to its buildup. Hot oil massage not merely helps you stay clean and sterile but it also helps strengthening the ligaments, improves the sheen and suppleness and brighten up your skin and gets rid of any tanning.
Massaging the reflex points help glands in secreting such hormones that increases blood circulation and calms you both physically and mentally.
Massaging your stomach is an age – old remedy used to treat issues related to the abdominal area. This massage runs along the large intestine, liver and spleen and your navel is given special attention during the massage. This massage is not only a stress buster but helps relieve gas, ensures proper secretion of gastric juices, clearing bowels and the proper functioning of the liver and spleen. The only thing to be kept in mind is to be gentle as these organs are delicate.
Massaging your face, nose and the area around your eyes are the first and primary line of defense when stuck with feel cold or flu-like symptoms.
Can help improve eyesight
A gentle massage on the side of your head and around the eyes helps improve eyesight, relieves headache and eye strain.
Keeps your skin and hair healthy
It nourishes the skin and the hair, enhances the glaze and suppleness of your skin as well as prevents premature appearance of wrinkles. Head massage also help stimulate the hair follicles, causing new hair to grow.
During body massage different types of touch, pressure and flowing movements applied to the skin and underlying tissues which helps in releasing muscular tension and curb pain. It is often used to put babies to sleep and treat sleep disorders in adults. Body massage affects your mind and body. Massage helps in relaxing, it eases the muscles and calms the mind and finally brings about a state of relaxation. When your entire body, including your mind and body are relaxed you are more likely to sleep better. So, go for a hot oil body massage just before going to bed and enjoy a good night sleep 🙂